I've had this model kicking around, unpainted, for years. A couple of editions of Warhammer Fantasy Battle ago.
Now we're in the brave new world of Warhammer Age of Sigmar, version 2.0 no less, and maybe it's time to splash some paint on the old fella. Also, I've been inspired by the recent chat over at Warhammer Community and Citadel Colour of getting models, units and armies "Battle Ready".
And, let's face it, it's something else to do with my amazing website of no content.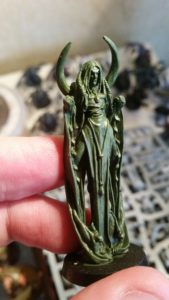 Windmaster Oh, for want of a better name, has a base coat of Loren Forest here. I'm just about to splash some Biel-Tan Green over him. Once that dries I'll start working on him from the base up.